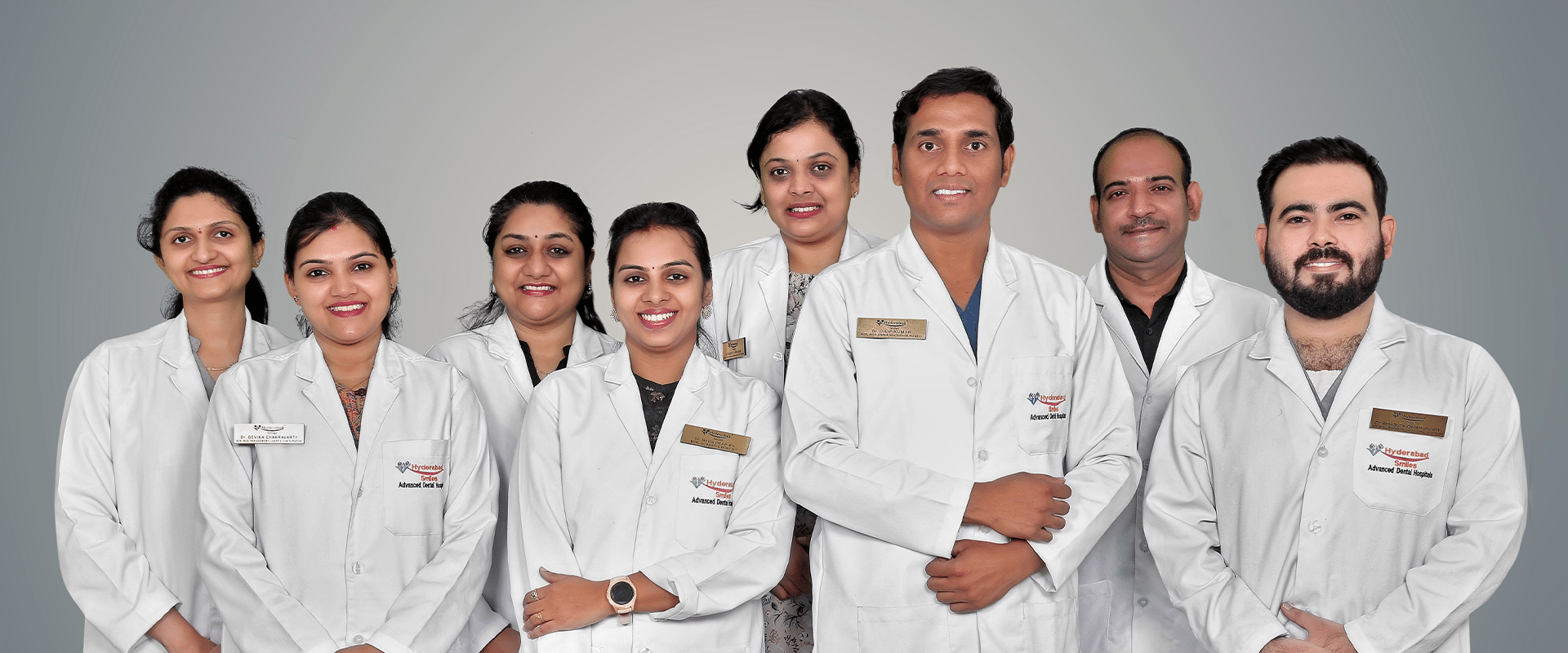 Hyderabad Smiles - Creating smiles everyday
Featuring state-of-the-art technology and state-of-the-art equipment, Hyderabad Smiles is one of the best dental clinics in Punjagutta. At Hyderabad Smiles, we offer a wide range of dentistry specialties, backed by cutting-edge technology and a world-class dental laboratory. It has made a significant difference in the lives of many people by being one of the best dental clinics. Punjagutta dental clinic in Hyderabad, India, offers healthy teeth and confident smiles so you can enjoy your life to the fullest.
Dental implants are rapidly substituting crowns and bridges as the principal technique of tooth replacement. A crown and bridge is a type of artificial tooth that a dentist or prosthodontist will use to repair a gap, cover an implant, or replace damaged or missing teeth. Both sides of the teeth are glued with the crown. If you match the following conditions, you are a good candidate for a dental implant.
You are missing one or more teeth.
You have significant tooth/teeth damage that cannot be fixed.
You are at least 17 years old.
At Hyderabad Smiles Advanced Dental Hospitals, we treat a wide range of clinical situations including missing teeth.
Complete tooth loss
Teeth in a day
Multiple or single missing teeth.
Zygoma Implants
Pterygoid Implantation
Sophisticated Dental Hospitals give the best and most advanced treatment with current equipment to create our patients' smiles for affordable Dental implant in Punjagutta, Hyderabad Smiles.
Endodontics, also known as root canal treatment, is a branch of dentistry that treats the dental pulp within the tooth roots as well as the tissues surrounding the dental roots. As part of the therapy, the diseased pulp tissues in the Root Canal are disinfected. RCT focuses on root canal sanitization and the preservation of natural teeth. However, the therapy is extremely reliant on each patient's clinical conditions, necessitating one of the following Endodontic treatments:
Conventional therapy
RCT with laser assistance
Treatment in a single sitting
Using a loupe or an operational microscope Endodontic microsurgery
If you have an infected tooth and are seeking the best endodontist in Punjagutta, visit Hyderabad Smiles, Advanced Dental Hospitals.
Root canal therapy is used to repair teeth that have been damaged, decayed, or diseased. The injured nerves and pulp are cleaned and sealed during this surgery, and the teeth are recovered. The pulp of a tooth's root canal is made up of blood vessels and nerve tissue, and it can get infected as a consequence of damage or decay. As a result, the tooth does not have to be removed. Endodontic therapy, sometimes known as "Root Canal Treatment," is a safe and effective way to save a severely damaged, shattered, or rotting tooth. It is critical to avoid extraction of the fractured tooth by choosing for root canal therapy (RCT), which can keep the tooth from becoming infected in the future. Depending on the severity of the infection and the treatment plan, root canal therapy can be performed in one or two dental sessions.
Symptoms that indicate the need for a root canal procedure
Long-term sensitivity
Toothache
Soreness or inflammation of the gums
Hyderabad Smiles is one of the leading dental hospitals in Panjagutta, offering the best Root Canal Treatment at an affordable price. Our dental team is managed by top-tier specialists that provide total patient care and satisfaction with the treatments we provide.
If you want a perfect smile and aren't certain where to begin, speak with one of our cosmetic dental Professionals. Find out the answers to your queries. Remove any ambiguity. Make your ideas and concerns known. The Rule of Golden Proportionality is used to construct smiles at Hyderabad Smiles Advanced Dental Hospitals, Punjagutta We consider your facial form, jaw angle, eye position, and lip line. Based on these data, our experts will help you choose the best smile design for your face.
The large majority of our clients are delighted with their new smile. Visit Hyderabad Smiles Clinic punjagutta to brighten your smile with Digital Smile Design treatment at the most affordable digital smile design
Dental crowns and bridges are two of the most commonly used procedures for restoring a tooth or teeth to full chewing function. The most important thing to understand about these two treatments is that they're extremely different in many ways. Regular dental visits are necessary not just to maintain your teeth shining white and free of illness, but also to inspect the quality of your crown or bridge.
Crown and bridge treatment at Hyderabad Smiles is implemented by applying the most up-to-date techniques and equipment. If you are looking for dental crowns or bridges in Punjagutta, then Hyderabad Smiles would be one of the top that can assist you with all of your dental needs.
Teeth whitening is the removal of contaminants from the surface of the teeth, as well as the reduction of discoloration and yellowing. It improves the natural appearance of the teeth. Smile - a distinguishing expression; most of us hide our grins to conceal cracked or broken teeth, uneven teeth, or even tooth discolouration. Many people prefer teeth whitening in order to have a bright and prominent smile.
Among the most common dental cosmetic procedures that can improve the appearance of your smile is tooth whitening. If you wish your teeth to be as white as a pearl, visit Hyderabad Smiles, a sophisticated dental facility in Punjagutta which provides the most affordable treatment for teeth whitening services.
A charming grin can overcome any circumstances. To brighten your smile, go to Hyderabad Smiles Advanced Dental Hospitals, Punjagutta. The clinic provides its patients with the best cosmetic dentistry and a stunning smile. Cosmetic dentistry includes dental work that improves the smile, aligns and shapes teeth, pigments gums, reclaims the bite, and other operations. Cosmetic dentistry focuses on dental aesthetics, which include dental color, shape, size, placement, alignment, and overall smile.
Orthodontics is a major branch of dentistry that addresses dental abnormalities such as misaligned teeth, crooked or crowded teeth, poor bites or gaps between teeth, and overlapping teeth. Orthodontic therapy strengthens an individual's appearance while also contributing to good oral health. A gorgeous smile not only boosts your confidence but also improves your oral health. We take pride in providing the best orthodontic treatment in Punjagutta, using dental equipment such as braces, aligners, and retainers.
Humans begin to lose their milk teeth at the age of 6-7 years, and the permanent set of teeth begins to emerge. Because milk teeth eventually fall out, some parents put off taking their kid to the dentist. These milk teeth, on the other hand, serve as the basis for the development of permanent teeth. If proper care is not provided, long-term problems may arise.
Hyderabad Smiles is one of Punjagutta's Advanced Dental Hospitals, with a cutting-edge dental facility and the greatest children dental clinic. We at Hyderabad Smiles are committed to offering the best pediatric treatment with the best pediatric dentist in Hyderabad for your child, from preventative thorough cleaning to defensive tooth sealants.
Why Choose Hyderabad Smiles?
We at Hyderabad Smiles, Punjagutta maintains doctor's consistency, allowing our clients to have a calm and positive environment while having an essential therapy. Hyderabad Smiles Punjagutta, also allows the patients to conveniently track the treatments for future years. We have redesigned dental care in a sustainable way, integrating emotional hospitality with contemporary health care facilities, world-class technology, and core services. Our innovative setup eliminates fear and anxiety from dental operations.
Simple putting, Hyderabad smiles punjagutta is the one stop solutions for all your dental and oral issues
Your smile is our first concern; call us today to get a sly smirk.